About: Who is the Atomic Pop Monkey?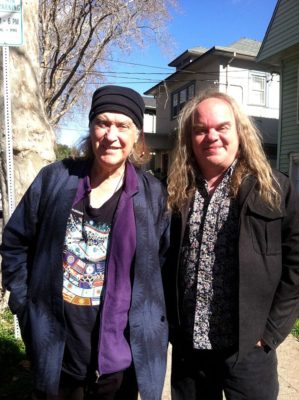 I founded Atomic Pop Monkey in 2000 after working several years at the Academy of Art College, FCB advertising in San Francisco, and several other small design firms and start-ups in the mid 1990's – early 2000's.
After moonlighting out of my bed room for several years, I decided to venture out on my own. Little did I know where that road would lead to. Since then I have worked with a large variety of clients and projects. Some of which have been nominated or won awards such as the GRAMMYs, Emmy, the Webbies, Golden Dot Award, as well as a Golden Addy for design work.
My current and previous clients include: Rock 'n Roll Hall of Famers such as Dave Davies (of the Kinks) and Charlotte Caffey (The Go-Go's), Country singer Lee Ann Womack, Comedians such as Brian Posehn (Big Bang Theory, The Mandalorian, The Sarah Silverman Show), Patton Oswalt (The King of Queens, The Goldbergs, Ratatouille, Parks & Recreation), Ron Funches (Black-ish, Trolls, Undateable), Kenny Chesney, KLCS (Los Angeles PBS), Rykodisc, Columbia Records, Sony Records, Hollywood Records, Nickelodeon, Senator Paul Wellstone, Planned Parenthood, The Bill Hicks Estate, The Ramones, Redd Kross, Barry Zito (Oakland A's, SF Giants), The Misfits, The Muffs, Brian Eno, Big Star, The Posies, Patrick Park, Merge Records, Imperial Teen, Tracy Bonham, Phranc, Daniele Luppi, The Stinking Rose, Ronnie Milsap, Merge Records, and many more.
I've worked on a wide range of projects – from cd/album cover art direction, graphic design, photography, and layouts to branding, web design and coding, video editing, animation, photo retouching, illustration, merchandise design, html newsletters, WordPress sites, and beyond.
Personal & Client/Project Related Recognitions:
• Expertise.com – Best Graphic Designers in Oakland 2022
• Expertise.com – Best Graphic Designers in Oakland 2021
• Expertise.com – Best Graphic Designers in Oakland 2020

• MAGENT Magazine's Top Ten Punk Albums of 2020  for Redd Kross – 40th Anniversary Edition Debut EP Reissue (Merge Records)
• ArtForum Magazine's Top Ten Best of 2016 for Jeff McDonald (Bang! Records)
• 2016 GRAMMY nomination for Best Country Song and Best Country Solo Performance
– Lee Ann Womack "The Way I'm Livin'" (with Scarpati Studio)
• 2015 GRAMMY nomination for Best Country Album – Lee Ann Womack "The Way I'm Livin'" (with Scarpati Studio)
• 2015 Los Angeles Emmy nomination for Best Short Promo (KLCS/Joe Regis)
• 2014 Gold ADDY® Award – Best CD or DVD Packaging (with Scarpati Studio)
• 2012 Aestiva Software Design Eye Face Off Winner
• 2005 Golden Dot Award Nomination
• 2004 Webby Award for Best Activism Site – HRC "Millions for Marriage"
• 2000 Shift Magazine's Top 100 site for "Heavy Metal Parking Lot – 15th anniversary"

I am currently welcoming potential  new clients and projects – let's make some great art together!